Latest
OT Week Online Toolkit 23-26 October 2018
11-10-2018
Please join us in celebrating OT Week worldwide! Occupational therapy week is our annual week-long celebration of occupational therapy. This year our theme for Occupational Therapy Week is "the doing profession" We would like to acknowledge and thank our sponsors 'Permobil NZ' for their great support of our industry. This toolkit has been developed to encourage Read More…
---
Media release – Occupational Therapy Week / Te Wiki o Te Whakaora Ngangahau
23-10-2018
Occupational Therapy Week / Te Wiki o Te Whakaora Ngangahau 22-26 October 2018 Every year in October, New Zealand Occupational Therapists celebrate Occupational Therapy Week and World Occupational Therapy Day. We are proud to announce that Te Wiki o Te Whakaora Ngangahau 2018 (Occupational Therapy Week 2018) is Whakaora Ngangahau "Te Umanga Mahi" / Occupational Read More…
---
Important announcement from TE RAU MATATINI
17-10-2018
EVERYONE COUNTS Are you Māori  and work in the health sector? Do you know that by completing the Māori Health Workforce Survey: Te Iti me te Rahi, https://www.surveymonkey.com/r/iti2018  will help us grow the Māori health workforce? Please complete Te Iti me te Rahi and share amongst your friends and Whānau
---
Facebook Posts
Health Central NZ news story - 16 October 2018 - "In my community, I knew nothing different," says Bessina. "Using drugs and alcohol was totally normal. The social culture there revolved around alcohol and drugs."

Yet while being pulled into substance abuse by those around her, she remained a community leader. She represented her marae on a local Board of Trustees, she was a member of the local fire brigade and she was putting herself through nursing school – all while caring for her father, a dementia sufferer.

An introduction to methamphetamine by a family member had made her feel that she could cope with all of this, made her feel invincible, says Bessina. At the bottom of the rapid and inevitable spiral into the hell of addiction her substance abuse was at the more extreme end of the scale – she was injecting methadone and amphetamine, taking huge amounts of prescribed painkiller Tramadol, sleeping pill Zopiclone, Valium, and washing it all down with a couple of bottles of wine every night.http://healthcentral.nz/build-more-drug-rehab-facilities-not-prisons/ ... See MoreSee Less
I found the book 'Chasing the Scream' a fascinating read around this theme.
Load more
"Grief comes in the middle of the night. It comes in the middle of the day. It comes in the middle of a meeting. It comes in the middle of a meal. It arrives. It's this tremendously forceful arrival, and it cannot be resisted." @GilbertLiz #TheTEDInterview https://t.co/phpi7wNW6W
Impairments in balance and mobility identify delirium in patients with comorbid dementia https://t.co/xbWNNU7340
Wednesday morning il be speaking to previous care minister MP @normanlamb about ATU's across the country #autism #pda il share the broadcast after my live interview just after 10am on Wednesday
AOTA members can earn 10 free CE contact hours during Member Appreciation Week.👐
Register today for free live webinars from Nov. 5 to 9!🆓
Which webinar are you most excited about?🌟
https://t.co/LO4pQCNIha #OThanks
LAST CHANCE: Registrations close Thurs for the Professional and Clinical Supervision 2-Day training program (1st & 2nd Nov). This course provides a solid theoretical basis & a rich set of practical frameworks to guide supervision practice. Book here:
MEG Director Grant Rix spoke with Carly Flynn on @RadioLIVENZ last Saturday
Programme working to bring mindfulness to schools
Some of the major improvements from mindfulness programmes include reducing symptoms of anxiety, stress and depression.
ow.ly
#Woods and #trees are good for us. Spending time among trees improves our physical #health and mental #wellbeing. Plan your next #woodland adventure: https://t.co/MZRilDdd9h
Our @38_degrees petition to #SaveTheGwentLevels has topped 12,000 signatures & more of you are still signing. Have you? Please RT!
https://t.co/2rD9FwZSs6
@WildlifeTrusts e-action is also live: https://t.co/shLEewu7Yd
#NoNewM4 Keep our Cranes: we need better ways to travel!
Aw thank you @DukeLynsay but I'm not going far away. Absolutely we'll still catch up to discuss all things neuro.
Lynsay Duke on Twitter
"@preston_jenny @theRCOT @RCOT_NP @RCOT_Louise @RCOT_Paul @RCOT_JuliaR @kithanga @janechorne @KateHaywardOT @vabrahamsonUoK @louiseclark15 We wi...
twitter.com
We want everyone shouting loud about our wonderful profession on World OT Day on 27/11. Come on UK OTs join in! @RCOTEastern @ElizabethCasso1 @DrWMB @SetG75 @MOHOspark @laurajstuart @theRCOT @NaomiMcVey @Kirstie_OT @SuzanneRastrick @andytildensfc Please RT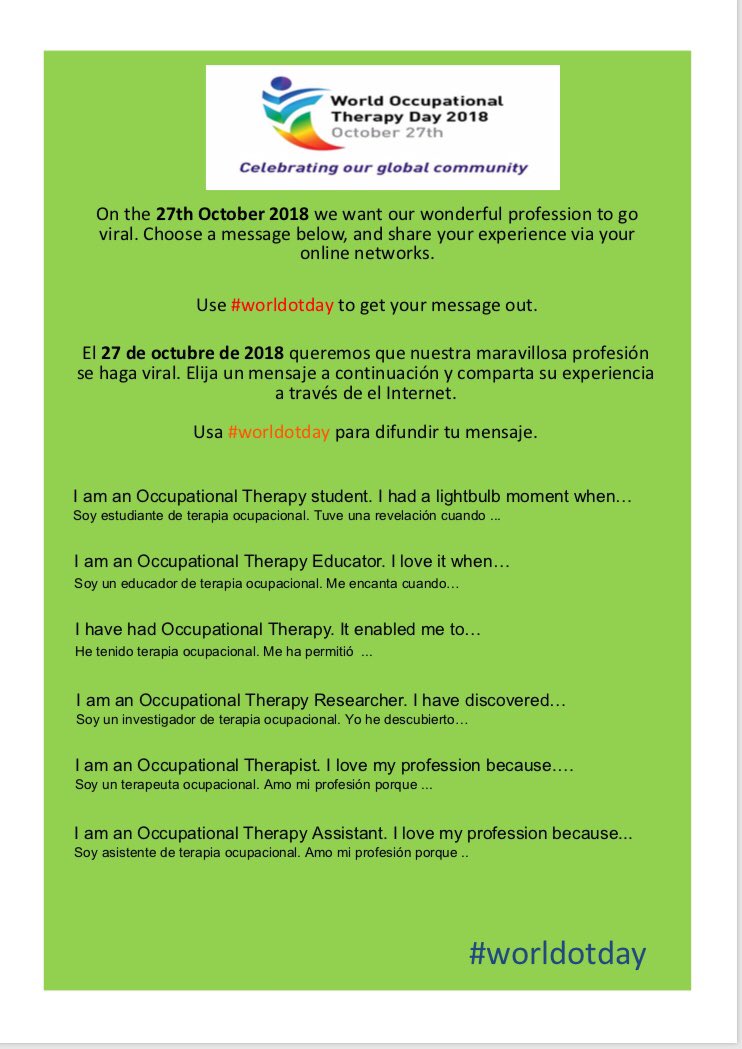 Sarah Bodell on Twitter
...
twitter.com
🗓️The PopUp Business School will be back in Porirua next month!
@PopUpAotearoa helps Kiwis bring their business dream to life 💫
We're right behind @porirua_city's latest PopUp by helping fund the free 10-day course. We can't wait to see it in action!
Fantastic news @JeremyH09406697 Beth must be so pleased. Well done again.
#BeingUnderstood
#autism
#pda
#pathologicaldemandavoidance
Bethany's dad on Twitter
"More progress!! Beths care taken over by new team of carers She met them out of the cell in extra care setting Basically a mini bedsit Had a bi...
twitter.com
Tomorrow is the anniversary of when Oliver went into Southmead Hospital and the last day @PaulaMc007 got to speak to her son Oliver before he was intubated. Plz Rt her story @NickyAACampbell @CarrieGrant1 @ThisisDavina @OfficialSting please share Thankyou all heartbreaking
The cutest Kiwi pregnancy announcements from 2018 https://t.co/dqhMDYiP2O (Via @NewRhon)
Well done @PaulaMc007 for all you've done to get the debate this far. Hope you can relax tonight and feel very proud of yourself.
#Oliverscampaign
#autism
Paula McGowan on Twitter
"#Oliverscampaign I have to apologise to everyone for not being able to tweet today I have been incredibly busy and now on a train home. I belie...
twitter.com
Solo walking the length of NZ is a pretty scary prospect but I think talking to a group of school kids about it for the first time is possibly even more scary. But looking forward to hopefully inspiring some students at Papatoetoe High & raising some money for @mentalhealthnz
Simple changes to the home environment can help living with chronic pain a little more manageable. Via @MadavorArth https://t.co/TYZe2ubIcI
Exactly the sort of initiative needed.

Brilliant stuff!
NVRnorthampton on Twitter
"Whether you are a lead professional/frontline worker in education, policing, social care or MH services, our conference aims to make you aware ...
twitter.com
So important to remember!
How conscious investors can turn up the heat and make companies change: https://t.co/0ZwMhuNumR
Progressive muscle relaxation has 4 goals:
➡️develop a relaxed state during
➡️remain relaxed following the exercise
➡️lowering baseline tension
➡️reduction of tension peaks
#31DayOTChallenge #mentalhealth
Most CAOT workshops have lots of hands-on time to learn how to apply the techniques you learn. This afternoon at the Anxiety Interventions workshop we're practicing progressive muscle relaxation. #31DayOTChallenge
Can you believe it? It's conference week!!! If you have not registered, check out the program and be aware that there will be 14 CEs over 2-days. Link to program below.

Join the over 550 that have...
The latest Gilly- does- Doing ! Thanks to @SCIE_socialcare @AOTAInc #socialcare #loneliness
Strengths-based social care: Children, young people and families
www.scie.org.uk SCIE Highlights No 5 Published: September 2018 by SCIE, Leeds City Council and Shared Lives Plus A strengths-based approach (SBA) to s...
paper.li
Is it possible to reverse some of the negative effects of aging by becoming more active? @mackinprof shares his insights on the impact of #exercise
You asked us: Can an OT provide occupational therapy services via Skype with a client who has recently moved to another province?

What you need to know about #telepractice with clients outside Ontario: https://t.co/zPkIPa1l5b
First things first: are you really ready to use #blockchain? Our President,
@isaaclidsky, explains the significance and future of #Blockchain for
#Adtech in this MarTech Series thought piece:
Blockchain and Adtech: First Things First
Yes, blockchain (and I mean the term imprecisely to encompass both "pure" blockchain networks, however you define them, and related crypto...
bit.ly
#BREAKING: Controversial Māori leader Sir Ngātata Love has died
Controversial Māori leader Sir Ngātata Love dies | Newshub
The 81-year-old was imprisoned for fraud in 2016.
bit.ly
Shepard Fairey's new poster of Sexual Bill of Rights activist Amanda Nguyen spells hope for sexual assault survivors everywhere: https://t.co/JudQc0yQG7
Load More...